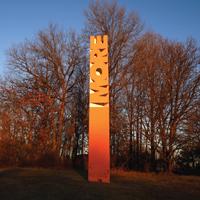 Double Dagger
More
(Thrill Jockey)


The twin blades of the band name are percussionist Denny Bowen and bassist Bruce Willen, with Nolen Strals adding the vocal performance, and let me tell you, these guys know how to rock. If you're the sort of dude (or dudette) who thinks you need a guitar to make proper noise and melody, then prepare to be wrong after listening to about ten seconds of the first track, "No Allies".
Double Dagger play a slippery kind of punk rock that uses loud/soft, spare/overloaded, fast/slow to terrific effect. Nolen Strals is a vocalist of the Ian MacKaye variety: he doesn't really sing so much as he speaks and he shouts; and he shouts without yelling, by which I mean, his voice is clear and loud and in control, and he enunciates, which is crucial in a band that creates its sound from precision drumming and equally precise—and elaborate—bass guitar. The vocal performances, in other words, aren't an add-on, but a complement to the other musicians.
This is exciting music, and a song like "Camouflage" exemplifies all that makes it so: a slightly overextended count-in from the drums, a simple bass line, and then a small shift into a taut groove, lyrics that fool around with the context of the word "nothing"—all of this while drum, bass and vocal work in concert through subtle dynamic changes. At the halfway point, the bass and drum trade off some quick fills and the whole song accelerates and crescendos towards the end, before dropping to a spare and spacious conclusion.
But that's just one three-and-a-half minute song, and "More" is an album that is, well, more (sorry) than a collection of songs. The ending of "Camouflage" provides transition into the beginning of "The Lie/The Truth", which contrasts spare verses against its positively anthemic chorus, complete with melodic backing vocals. "Surrealist Composition with Your Face" is worthwhile for the title alone; the music backs it up. "Helicopter Lullaby" offers you the opportunity to fall asleep to a full-on chopper assault. And when "Two-Way Mirror" brings the album to its terrific end, you'll be puking your guts out wanting more. Or if you're like me, you'll just start the whole thing over again from the beginning.
It's tempting to call this record melodic punk-rock masquerading as hardcore, or to reverse that and call it hardcore masquerading as melodic punk. The truth lies somewhere else: this is an intelligent and outstanding and exciting amalgamation of everything that makes punk rock great, distilled through a bass, a drum and a microphone.
The band are also graphic designers, and therefore have a really good-looking website: http://www.posttypography.com/doubledagger/