If it seemed like day one was full of tough decisions, day two really put my prioritization skills to the test. I had marked up to five or six options for several time slots, but in the end cheap beer and proximity probably played a larger role in decision making than I should admit. There was still plenty of great music and here's the rundown for the day.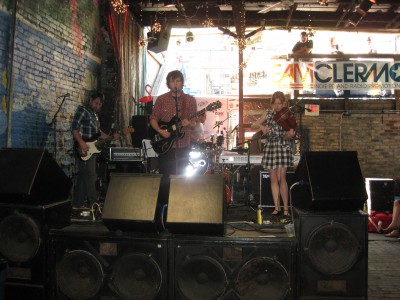 Venice Is Sinking
Listen: Ryan's Song | Pulaski Heights
Having woken up too late to catch a free brunch we had been planning to hit up, our schedule was free to head directly to the Team Clermont and MBV Music Official SXSW College Party. Kicking the party off was Venice Is Sinking, a band we've featured plenty here on The PhiLL(er), but I've never had the good fortune to see live.
As part of the festivities there were vinyl/tote giveaways and our previous coverage of Venice Is Sinking's third album paid off in helping me answer a trivia question to win one. Hooray for winning and the day was off to a great start!
Following Venice Is Sinking, we took a brief break from the music so that I could finally meet Jasper Borgman (@JasperPlanNine) in person. Also met Michael Butler (@rnrgeek) who Jasper does the Good Clean Fun show with. Then, it was off to the east side of the IH-35.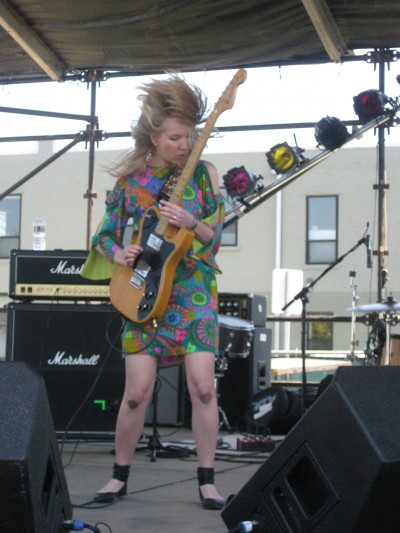 Ume
Listen: The Conductor | Pendulum
Last year, some of the best times we had were east of IH-35 and our first adventure east of the interstate this year was to check out Ume. This short trek was certainly worth it as they absolutely rocked. We ended up with some great photos and video which we'll be sure to post on The PhiLL(er) Facebook page later. If you want an idea of Ume, think Kim Gordon leading a power trio and going more rock and less art.
While enjoying Ume, we were reminded via Twitter that Liars were performing at the Insound day party. This led to the tough decision of skipping both Dosh and Danielson (which would have furthered our east side adventure) to head over to the party and take advantage of their unlimited drinks for $3.
I have to admit that I wasn't really focused on the set while Small Black were performing due to a number of other things including water pistols and a lack of the "unlimited" drinks. Only after their set did I learn that a guy I went to college with was in the group when I noticed someone that looked quite familiar outside. Small Black still have a few SXSW performances left in them and are touring through early April (see tour dates on their MySpace page) so I plan to take advantage of one of those occasions to focus.
The same basic story above (with the exception of having gone to college with them) applies to Vivian Girls as well. I think at this point it is worth mentioning that staying up all day, watching bands and staying focused is hard work!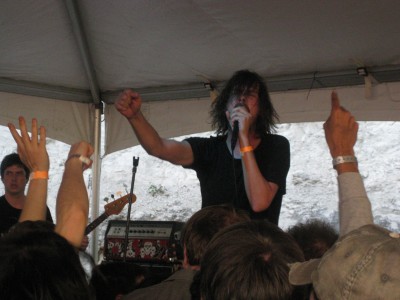 Liars
Listen: The Overachievers
By the time Liars took the stage, the lack of unlimited drinks issue had been resolved and we were all set to enjoy the set which closed out the Insound day party. Really got to thank Penner (@someboredkiddo) for the reminder Tweet about this.
So Many Dynamos is another band that we've featured in the past on The PhiLL(er), but just now got the chance to check out live. Plus, it took care of the obligatory visit to Emo's during SXSW. The venue has a special place in my heart since my first SXSW trip ten years ago when it was one of the few all ages places I could find. The band's performance (their only one at SXSW) was great and the energy had the crowd moving like crazy.
Titus Andronicus put on one hell of a performance an great intensity throughout. Unfortunately, we didn't get to hear the complete set as their last song ran quite a bit over their allotted time (I think this occurred somewhere past the 10-minute mark) and they pulled the plug on it with 45 seconds left. They're touring through late April so be sure to check them out if you have the chance.
With they're varied instrumentation which included saxophones, baritones, trumpets, bells and keyboards at different points throughout the set, Man Man can certainly keep a crowd engaged and wondering what is going to happen next.

Joan of Arc
Listen: Explain Yourselves #2
We decided to close our day out with Joan of Arc and if I could do it again, I'd pick another way to close the day out. Despite a very enthusiastic Bobby Burg on bass, the performance (and between song banter) was rather flat and they lost the crowd as the set progressed. The highlight might have been the comments regarding Kinsella's ex-wife's ex-boyfriend at the end of the set as he was covering what other times they'd be performing at SXSW.