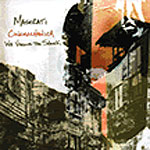 Various Artists
Maserati/Cinemechanica/We Versus the Shark
Hello Sir Records
So you're a new label looking to get some attention and let people know what you're all about. What in the world are you to do? Well, releasing a split CD featuring three awesome bands on your label is a damn good way to start and that's what Athens, GA's Hello Sir Records has done with this release. The album consists two tracks each from Maserati, Cinemchanica, and We Versus the Shark.
Of the three bands featured, Maserati is undoubtedly the most well-known with two full-length albums under their belt with their most recent, The Language of Cities released on Kindercore in 2002. Their two tracks on the EP, "Towers Were Wires" and "Asymetrical Threats", were both previously unreleased and recorded during the band's Confines of Heat session for a split EP with The Mercury Program just over a year ago. While the tracks are some of the first recorded with an expanded line-up that added Jerry Fuchs (tamborine/drums) and Tristan Wraight (guitar), the music is still distinctly that of Maserati with its steady rhythm section and adventurous guitar lines forming an incredibly dramatic piece of instrumental music.
"The Professor Burns Vegas" provides a very smooth transition from the music of Maserati to the remaining tracks of Cinemechanica and We Versus the Shark. Like the Maserati compositions, this Cinemechanica song is an instrumental with extremely tight playing by the band. Unlike the more open-ended and free-flowing Maserati tracks before it, the latter half of "The Professor Burns Vegas" is much more aggressive with the coda utilizing powerful rhythmic strikes of the guitar to drive the song to its end. "I'm Tired of Paul McCartney" picks up right where "The Professor Burns Vegas" leaves off with the guitars and vocals of Andy Pruett and Bryant Williamson engaged in a constant battle of precise lines and chunks of throat. Supported by the skilled drumming of Mike Alabanese and punchy basslines of Joel Hatstat, "I'm Tired of Paul McCartney" will have you unsure of whether to just shake your ass or kick someone elses.
We Versus the Shark continues with the strength and energy presented by Cinemechanica. The introductory guitar work on "See Carolina's Fastest Trees" sounds a lot like industrial machinery and the drive of the songs is unrelenting. The band's male/female vocals will undoubtedly lead to many Pretty Girls Make Graves comparisons and after listening to their contributions to this album, I wouldn't hesistate to say that they are of the same caliber. The yet to be finished Hello Sir Records website states that they "Aim to Rock Your Face Off" and with this sampling, they've hit the bullseye.