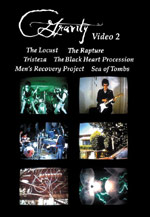 Various Artists
Gravity Video 2
Gravity Records
San Diego based Gravity Records' second collection of music videos is a rather brief compilation — it lasts all of 22 minutes and that's including the half-minute intro track of ambient noise — of music from The Locust, The Rapture, Tristeza, The Black Heart Procession, Men's Recovery Project, and Sea of Tombs. The DVD's soundtrack is taken straight from the DVD and shouldn't provide too many surprises as most of the tracks have been previously released although some of the audio was recorded live during filming.
The first four videos are comprised primarily of the bands performing live with the exception of The Locust's "The Half Eaten Sausage Would Like to See You in His Office" which had audio provided from their split 7" with Melt Banana released on Gold Standard Laboratories. I tend to think that music videos consisting solely of live band footage is rather unimaginative, but I'm willing to make an exception in this case as these videos — at least in the case of those with audio recorded live during filming — should really be viewed as a document of that particular recording session. They don't provide much in the way of entertainment, but much can be learned about the bands from this footage. Details regarding individuals' demeanor and interactions between band members can be scrutinized at a level unavailable at a crowded concert and for those interested in audio recording there is an even greater amount of information to be culled.
For those wanting more than just an archive of the bands performing, you may want to skip to the final two videos on the DVD. "Paradigm Shift", recorded by Men's Recovery Project, is the only film on the DVD not filmed and edited by Matt Anderson and I'm not sure if it could have been done by anyone else. The audio track is more of a story told through audio clips than a song and only Men's Recovery Project could know how to translate that story into film. The video for Sea of Tombs' "Glass Sun" takes the trance-inducing heavy bass and guitar fuzziness to a new level as it begins with footage of eels and jellyfish then begins creating unique angular imagery through the use of mirror image effects. Of all the videos on the DVD this would be the least conventional and more "art school-ish".
As a whole, Gravity Video 2 is a unique collection of work unlikely to be found elsewhere — especially MTV2 now that's it has become just as commercial as regular MTV — and definitely will definitely kick up the cool meter of your video collection. The problem I find with music video DVDs is it doesn't really have as much re-watching possibility as a movie, but at the same time this video is something you'll want to see at least once and then impress your friends with later.