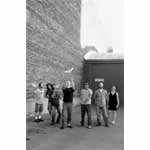 They The Down Low
Americana Bauxdivine
Pastoral Records
This album starts with a grunting, straining electrical fart that gives way to pounderdrum and low-fi fuzz guitar, then settles into quickpaced but gentle pop that sings something about combing tidalwaves on my head. You know that song "Another Girl, Another Planet"? It reminds me a bit of that, stylistically I mean. The hook isn't at all the same. And a bit like the Flaming Lips before they softbulletinned.
The second song cheerleads S-O-U-T-H-P-O-L-E and oh my god it's prettygirl vocals and delicious pop. A friend of mine is going to the southpole at the end of this very month, which has nothing to do with anything, but I'm gonna put a link here anyway: http://www.northpole09.com/
But hold on. If the first song made you think it's gonna be standard low-fi fuzzpop territory, and the second made it seem like it might be slightly eccentric low-fi fuzzpop territory, then the songs that follow fling the doors wide open and kick the first thought's butt while tickling the second's chin. This is eccentric low-fi fuzzpop with dividends and interest, baby. Or is it interest and dividends? What are dividends? Here's the interest: Double bass. Electric bass. Guitar. Ukelele. Banjo. Piano. Country stomps. Country quiet. Edelweiss, why you so nice? You're pretty good lookin', you know, and I wonder if you find me good lookin' too. Sleighbells and a drum making a rumble of thunder open "Seasons Along the Way", which is a lovely duet that probably has something to do with seasons. I really hope their live repetoire includes a cover of "Why Don't We Get Drunk and Screw."
By the end of the first listen you want to be best friends with these people, and get this: it's an album that grows on you with repeated listening. It starts pop and ends country, and meanders a not-too-straight line as it goes from one to the other. What more do wee children of the world need from their bands?
In fact, oh my sweet lord, I might be willing to say that this is about everything I want from my countryishindierock. Actually, that's not true; it isn't. But it at least makes it seem like it is while I'm listening to it, which might not quite amount to the same thing, but is surely enough for me to say that everybody should buy this record twice and give one to their best friend. You'll wanna pull red wagons with them.