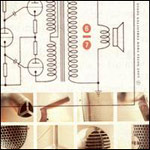 The Six Parts Seven
Lost Notes from Forgotten Songs
Suicide Squeeze Records
At first listen to Lost Notes, one immediately realizes that it probably shouldn't be filed under "S" in your local record store, but would be more clearly at home under "Various Artists." While all the songs on the album are in fact written by The Six Parts Seven, they are "re.made, re.defined, re.shaped, etc" by the multiple contributing artists so as to be wholly transformed. Essentially this means the guest artists add lyrics to the strictly instrumental Six Parts Seven catalogue, and impress their own special thumbprint upon the melodies. This proves to be both a strength and weakness for the album.
The list of contributors is enough to make any respectable indie rock kid salivate – Isaac Brock (Modest Mouse), Pall Jenkins (The Black Heart Procession), Dave Bazan (Pedro the Lion), John Atkins (The Magic Magicians) – just to name a few. Freed from having to compose songs themselves, these artists are left to simply hang lyrics on a pre-constructed frame, with often surprising results. "Sleeping Diagonally," reworked by Sam Beam of Iron and Wine has a light and timeless but somehow nostalgic quality. Think of just about any song off The Royal Tenenbaums soundtrack and you'll get the picture. In contrast, Dave Bazan is at his bitter best on "A Blueprint of Something Never Finished," which feels like the evil twin of his own "Bad Diary Days."
The additional of lyrics to a Six Parts Seven album pulls it out of the realm of post-rock and makes the music more accessible, without distracting from the bands precise musical craftsmanship. However, with so many artists contributing such unique reinterpretations, the album lacks cohesion. Every track on the album shines on its own merits (except perhaps Katie Eastburn's painful but brief rendition of "Cold Things Never Catch Fire"), and perhaps this is part of the problem. Lost Notes lacks the natural hills and valleys that give an album its shape. Instead we are faced with one peak after another, making it great fodder for a mix cd, but a bit overwhelming as an album in its own right.