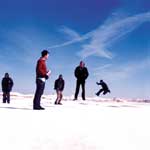 Lying in States
Most Every Night
Flameshovel Records
I've always heard that it can take a while for a band to release its first album and that frequently playing live, not releasing an album should be a band's first goal. Lying in States has taken this idea to quite the extreme having been existence since 1999 and releasing their first full-length, Most Every Night, in 2004. They did release The Bewildered Herd EP in the fall of 2002, but other than that, no other Lying in States releases exist. What does exist, however, is a long list of excellent bands that Lying in States has played with over the course of their being that includes the likes of Cursive, Hot Hot Heat, and Rainer Maria.
So what has Lying in States gained from more than four years of playing live together before releasing their first album other than a reputation for having a not-to-be-missed live show? An incredible comfort playing together allowing them to create an incredibly tight full-length with cohesiveness not present on the debut albums of most bands. Most Every Night isn't a static album by any means; the bands conditioning shows through in a variety of styles whether they be slower and folkish ("We") or driving and aggressive ("Vie Capital Ponk").
Although the meters and rhythms may change, all eleven tracks are kinetic—constantly pushing forward. This sense of movement is infectious and likely to cause those listening to fidget in sync with the music, sing along, or in more extreme cases, execute primative dances just to release the energy. No one could ask more of this Chicago quintent except to not take quite as long to release their next full album.