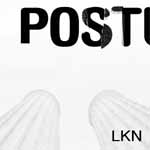 LKN
Postulate II
Greyday Productions
It was a little over a year ago that I was first introduced to Lauren K. Newman via her album Postulate I. That album's thirteen tracks left me awestruck then, and now, Newman is back a year later with thirteen more songs on the follow-up, Postulate II. As may be expected, the new album has some key things in common with the previous release: Newman skillfully handles all vocal and instrumental duties; it explores an array of emotions and expression; I like it and will tell you that it is awesome.
Where Postulate II moves ahead of its predecessor is the use of piano throughout the compositions. Sure, the instrument made its share of appearances on Postulate I, but in most of those instances it was laid below a good dose of guitar and drums. On Postulate II, the piano exerts greater influence and not just on tracks where it is the primary instrument such as "Terrica Jean" and "7.20.06", but also on tracks like "On My Back in the June Night" and "Passenger and Crew" that weave piano and guitar together.
The additional piano gives Postulate II what could be described as a "moodier" feel, but those looking for the powerful LKN that was on full display throughout Postulate I will not be disappointed either and need look no further than the tracks "Mattanza" and "On the Ride" for proof.