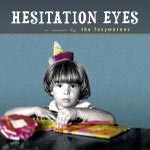 The Foxymorons
Hesitation Eyes
Heatstroke Records
Don't let their name fool you; The Foxymorons isn't an all-female punk rock group with an appreciation for the quirks of the English language. A listen to the group's third album, Hesitation Eyes, reveals a group with an affinity for well-crafted pop songs and a hint of twang.
The consistency of songwriting between David Dewese and Jerry James is exhibited by the album's ability to remain a consistent listen throughout despite alternating vocalists (and I'm assuming primary songwriters) on every track. The duo extends their similar approach to lyrical content as well. Although occasionally hidden under different guises, nearly every track is a song about love (primarily unreciprocated).
Remaining content to stay within a particular comfort zone could easily be the downfall of many groups, but The Foxymorons seem to have nearly perfected their blend of light and sunny pop that any deviation could very well lead to disappointment.