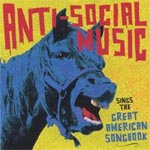 Anti-Social Music
Sings the Great American Songbook
Peacock Recordings
Titled Sings the Great American Songbook, the debut album from New York City collective Anti-Social Music may have some thinking that this is a rip-off of Rod Stewart's latest string of releases; that is until they actually listen to it. The eleven-member group of composers and performers inject a level of fun and DIY ideals into classical and claim to accomplish it all without adding a hint of pretension. I was a bit wary of what lay ahead as I put in the disc and with Anti-Social Music president Franz Nicolay's quote declaring "contemporary chamber music is the new frontier in socially unacceptable music" in mind, I braced for the worst and was pleasantly surprised.
Featuring a sludgy distorted guitar passage, opening track "Fracture II" is certainly one of the more disorienting and jarring compositions on the album. At the same time, however, the piece also has its share of beautiful moments including an incredibly Gershwin-esque climax prior to the extended guitar segment. I view "Fracture II" as a sort of screening test for the remainder of Sings the Great American Songbook in that none of the remaining compositions seem to reach quite the same level of perceived chaos.
Undoubtedly there are unorthodox elements and particularly discordant passages throughout the remainder of the album, but with the exception of Bill Brittelle's vocal work (described as "Yellin" in the liner notes) on "Seven Songs of Zen, Love and Longing", I failed to find anything too offensive. The intense flute playing of Andrea La Rose on "Breakbeat" certainly grabbed my attention and deservingly so; as Andrea La Rose approaches the end of the three-minute solo you get the impression through her increasingly audible breaths that the extreme performance may end with her passing out.
While Anti-Social Music's debut may fail to clear me out of a room when played, it certainly has the potential to "offend your parents and annoy your friends" and at the same time actually brings a fresh attitude to modern classical music. How many other chamber music collectives do you think celebrated the release of their debut album with a kegger?