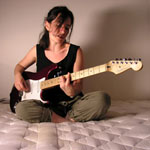 Alina Simone
Prettier in the Dark
Alina Simone may present herself simply as a girl with a guitar and for the most part her EP Prettier in the Dark reinforces this appearance. On "Louisiana Song" and "Every Fresh Start You Make" the recordings are so open and revealing you can almost feel Simone's breath on your skin while listening. Her singing sounds full of such poignant emotion as she reflects upon memories of past experiences that I almost feel like I'm intruding and hearing something not meant to be shared.
Just as impressive as the hushed songs, however, are "Prettier in the Dark" and "Siberia" on which Simone collaborates with members of the band Emma La Reina. The addition of drums, bass, and other instruments propel the songs forward without overpowering them. The core of the composition is still Simone's vocal and guitar work, but it has that extra impact that makes it even more memorable.
There have been plenty of references to Cat Power when describing Alina Simone, but one that I would like to offer is PJ Harvey. The opening moments of "Love and Rockets" immediately took me back to the first time I heard 4-track Demos and then when the rest of the band kicked in it was like transitioning to the Steve Albini produced Rid of Me. With Prettier in the Dark Simone reinforces the fact that softer songs filled with subtleties are not necessarily timid, especially when built around a strong voice filled with emotion.