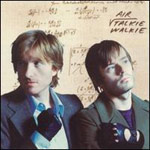 Air
Talkie Walkie
Astralwerks
In my first CD purchase of music released in 2004, I've struck gold, and Air.
Air are one of the only things that are good about France. The duo have been making warm and lovely electronic music for years. Even if you're not into the French electronica/house scene, you've still probably heard their music in the two excellent Sophia Coppola film's The Virgin Suicides and Lost in Translation.
Their latest release, Talkie Walkie is a testament to their greatness. From start to (almost) finish, one is hard pressed to find a flaw worth mentioning. Okay, there is one flaw that I'll discuss in two paragraphs. Anyway, it's a nice return to form, as 2001's 10,000 MHz Legend was decent but lacked the charm and warmth that Moon Safari and Talkie Walkie both posses.
For my money the killer tracks are "Venus", a track that plays off of that book title that posited that men and women are different and may be from different planets. It's also got a very cool Twin Peaks-esque synth sound. "Cherry Blossom Girl" is the album's first single and deserves the honor. A lovely track with female vocals and simple but beautiful flute and guitar work. Finally, "Surfing on a Rocket" is a brilliant song with a wonderfully phasing soundscape, one would associate with a trip to space, and a gnarly female voice counting down from 5 to 0. My words can obviously not do justice to the song, as such, you should buy the CD. The best part, buy it now and you get a bonus DVD with live performances of several earlier songs.
My one bone with the album is the final track, "Alone in Kyoto". Don't get me wrong, the track is so beautiful it literally fills me with emotion when I hear it as part of the Lost in Translation soundtrack. However, it seems out of place on this album. I feel like it was tossed in to fill out an album that would have otherwise been only 9 tracks. It doesn't fit with the space theme of much of the album. Again, though, it's a phenomenal song, just out of place, but not a big enough problem to keep me from giving it four S's (SSSS).