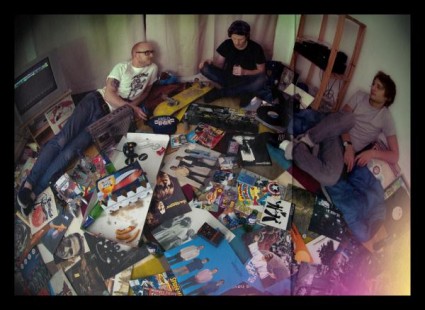 Take a look at the image above of Wingman and tell me, what isn't there to like? You've got records, comics, skateboards, and pizza. It is all good stuff and makes its way into the list of the Leeds, UK group's list of influences as well as the subject matter of their solidly catchy songs.
The trio is going to be releasing their first single this September as the kick-off release of Fear & Records's new collection of limited edition singles. The series of releases which will feature ten bands over the next six months doesn't just focus on music, but photographers as well.
Each limited run of 100 CDs will include a cover focused on a photograph and some of the discs in the collection will include hand-numbered Polaroids with an exhibition featuring the photos slated to take place at the close of the project with live performances from the bands.