SXSW 2010: Day 3 Recap
I think day three might get categorized as a day of recovery, at least when it comes to the afternoon. We didn't stress about getting an "early" pre-noon start and once we got downtown, we walked over to Juan in a Million where I got way too much breakfast taco. Just finishing one threw me into a bit of a food coma so we planned to take it easy, checking out what was going on at various east of the freeway locations we ran across. The highlight of this was definitely a random skateboard contest with some hilarious commentary.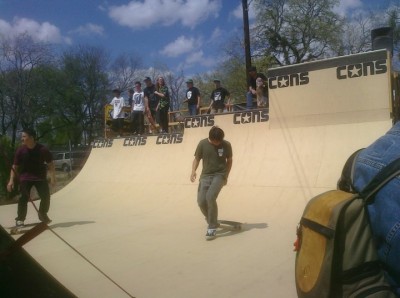 Eventually the time did come to commit to a show so we decided to continue our "SXSW 2010 Tiger Quest" by checking out Minature Tigers. Unfortunately, they seem to have been removed from the lineup so with a bit of further deliberation we finally got the music started with: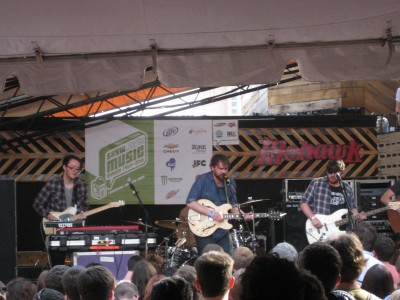 Frightened Rabbit
Listen: Old Old Fashioned | Modern Leper
It was good to get the music started and particularly with an international band that I had never seen before. Opportunities to check groups out from all over the place is one of the great things about SXSW. Frightened Rabbit are actually going to be kicking off a US tour this April with a performance at Coachella so if you didn't make it to SXSW, but want to check out Frightened Rabbit live, here's your chance.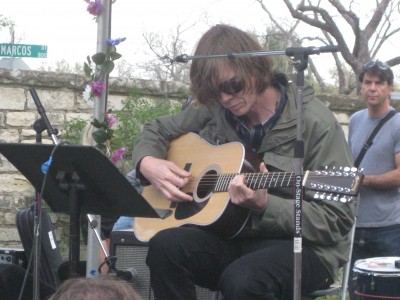 Thurston Moore
Listen: Fri/End
After Frightened Rabbit, it was back to the east to see Thurston Moore at the French Legation Museum. This place is one of the best to chill out at with two stages and a nice lawn. Thurston Moore opted to perform at the smaller stage which was great as it is set up at the bottom of a slight hill which provided great viewing/listening. It was a mellow, intimate performance and afterward he stopped for photos with a few people including who I am pretty sure was Eddie Steeples (Darnell aka The Crab Man from My Name Is Earl).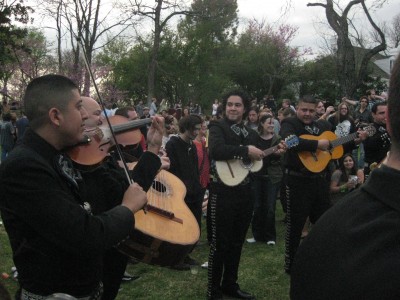 On our way out, we heard music coming from what I thought was the other stage, but it turned out to be a random mariachi band that appeared on the scene. They surrounded a couple folks that were still sitting down and got quite an enthusiastic response.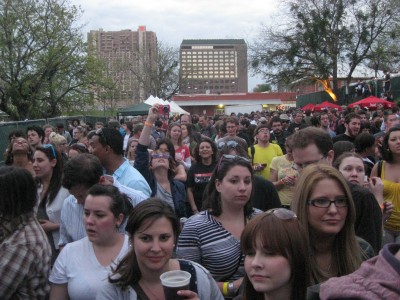 YACHT
Listen: So Post All 'Em | See a Penny (Pick It Up)
YACHT drew quite the crowd at their Mess With Texas performance. There were as many people in front of me as there were behind me in the photo above. When they first started playing, I was quite surprised as they were fully decked out in tuxedos and had a full band. This was my first encounter with YACHT that included the Straight Gaze and I must say, they make the full band thing work for them.
Following YACHT and a failed attempt to see Band of Horses play at the Central Presbyterian Church, SXSW 2010 Tiger Quest continued with Athens, GA's Twin Tigers. The group provided further proof that all bands with "Tiger" in their name are awesome.
Dosh is one of those artists that I've wanted to see live for a long time; something about things being samples and layered live really fascinates me and it is pretty incredible to see it happen. Unfortunately, the sound system at Barbarella was not incredible and although we were able to see a master at his craft, we weren't really able to listen and enjoy it.

Les Savy Fav
Listen: Patty Lee
No disrespect to Suckers or The Antlers, both of which had great sets prior to Les Savy Fav, but I'm going to jump straight to Les Savy Fav. It was a laid back afternoon and now I'm going to try and make it a laid back "evening" by wrapping this sucker up and getting to bed before 6 am.
After seeing Les Savy Fav perform at Seattle's Capitol Hill Block Party back in 2008, I told myself that I'd see them perform whenever I had the chance. Singer Tim Harrington's presence at that performance was awesome and it continued tonight with various antics including unplugging stage lights, pouring glowstick chemicals on himself, jumping into the crowd and, last but not least, singing his head off. The sound wasn't all that great with the microphones seeming to drop left and right, but the crowd was singing right along the whole time and Harrington does not lack in the volume department. Closing out the set as part of the "encore" – in quotes because the sound man didn't turn anything back on – he screamed a capella. Les Savy Fav live show = awesome.
One more day and then it is back to reality.