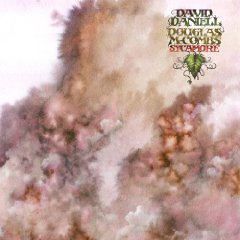 David Daniell and Douglas McCombs
Sycamore
(Thrill Jockey)


Douglas McCombs stands at the center of a minor musical epiphany in my life. Sometime when I was a teenager I learned that Douglas McCombs who played bass in Eleventh Dream Day—a band I adored primarily because they were both Makin' Like a Rug and wanted to Bomb the Mars Hotel—was also Douglas McCombs who played bass in Tortoise—a band I was still pretending to understand while also trying really hard to understand them. So the small epiphany was this: music that sounds very different can originate from the same place, and actually, lots of ostensibly different kinds of music have more in common than one thinks. I know; I was a teenager.
And so to this collaboration between guitarist David Daniell and Douglas McCombs. It begins with simple, single notes, a little bit like the rain drops at the beginning of "Bambi", but luckily not turning into "Silver Bells": a feedback-drenched guitar eases into the middle of the mix after about a minute, and elegantly and luxuriously ringing chords and notes fold around it. Halfway through the track an acoustic guitar replaces the electric, louder, and with the supporting sounds gently receding. The second track, "Bursera", follows a path built on a background hum and guitars, with sounds that are either ambient or sampled or electronic, through a grove of cymbals, rising to a cacophonous peak involving even more percussion, and extending for minute after minute after minute in a way that is somehow both controlled and chaotic. Wonderful.
"The Deshabille" would fit in on a Brokeback record, rich bass notes supported by spare percussion and what seems to be a faintly and infinitely ringing cymbal.
Presumably if you're a fan of McCombs's other work then you don't need me to tell you to go out and buy this album; whether or not you've heard that stuff, you should go out and buy this album anyway. It's an endlessly rewarding listen, which is pretty much true of everything I've ever heard that features Douglas McCombs. Yeah, I like him. And not just because we have the same first name.