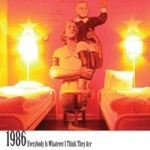 1986
Everybody Is Whatever I Think They Are
(Palentine Records)


When a new band puts out a solid album of swaggery guitar rock like 1986 did with "Nihilism is Nothing to Worry About" a few years ago, what you really want them to do is come back with album that does the same thing, but better. The infamous sophomore slump is a cliché more or less because it's true more times than it's not, or at least more times than anybody wishes it were.
Luckily for everybody, 1986 have come back with "Everybody Is Whatever I Think They Are", which is not only a good album title (and presumably some sort of deliberate mangling of Arctic Monkeys, "Whatever People Say I Am, That's What I'm Not" [which, as long as I'm getting parenthetical here, is a lousy title, also a lousy band name, also a lousy album, also a … well, let's close all these brackets and parentheses and get back to the matter at hand; where was I?]), but is also an album that delivers the swagger and the songs that the first 1986 album did, but more so. The Dino Jr-ishness—"Black Spring" could be straight from "You're Living All Over Me"—is still intact (this is good), but the songwriting is a little more tightly controlled and complex (this is better), and the playing is more confident, and more swaggering (this is best). This album, while not saturated in it, makes more comfortable use of the band's psychedelic impulses (for example, the intense and deranged "Aunts Marching", which descends gradually into more of a drunken stagger than a march), and they pack a lot of mean guitar, big drumming, juddering basslines, mood and tempo changes into songs that hover more or less in the three-and-a-half to four-and-a-half minute range.
Let's come back to those paired titles, because it sums up what I like about 1986: where "Whatever People Say I Am, That's What I'm Not", as a title and an album, is a semi-interesting idea (and music) riding on a pose, "Everybody Is Whatever I Think They Are" is a genuine posture, with an implied and casual fuck you, and you don't get the impression the band shrug themselves out of it when they're behind closed doors: this is music with brains and with guts and integrity, and it's got that third one because it's using the first one and doesn't even think about the second. But anyway, I gotta go, because Jesus Is on the Phone.